What is it about collections that bring us so much joy? Is the hunt for the next piece? Is it the thrill of finding that rare piece that you have been searching for forever? Or is it the appreciation for the collection itself? For me, it's all these things. As a dealer, I have to admit that the hunt is exciting. The rarer the piece, the more exhilarating it is to find it, but I also love displaying them and using them.
I have a few collections (ok, maybe more than a few).  Truth is I have a quite a few collections. I collect vintage Madonna's and rosaries.  I also collect vintage trophies, vintage Christmas cards, Santa's, vintage coral, decorating books and my prized flower frog collection.
Having been a florist for many years, flower frogs have always spoken to me. I still consider myself a florist and use my flower frogs all the time in the arrangements I make for my home. Of all my collections, the flower frog collection has probably been the easiest to build. As with all things, the passage of time makes things harder to find, but because most flower frogs are made of metal, they seem to weather the years gracefully. They get better with each year that passes.
In case you don't know what a flower frog is. Let me explain.  A flower frog is a type of mechanics used to stabilize the stems of flowers in a vase or container.  
Nobody is certain as to why they are called frogs.  Except that they the do sit in water like frog do.
Flower frogs were used by flower lovers for centuries and were made in different sizes and shapes to accommodate various vessels and flower types. Until the 1950s, when floral foam was invented, and designers stopped using frogs for mechanics. Flash forward to today, people are starting to realize the environmental impact of the foam (which is essential plastic that does not break down), and they are beginning to turn back to frogs and cages for floral mechanics. So much so that they are even being manufactured again because of the high demand for an eco-friendly tool.
I thought I would go over the different categories of flower frogs and, along the way, show you my collection within each category. They range in materials from metal, glass, ceramic, lead, and plastic. Some are very practical in form and material, but older Victorian frogs can be very elaborate and sometimes whimsical.

What are the different types of flower frogs?

Metal Pin Flower Frogs
I think these are the easiest to find. If you go to enough estate sales or yard sales, you will find them pretty easily and often inexpensively. Often you will find round and oval frogs. It's always fun to find the leaf-shaped and flower-shaped frogs.
Pin frogs are better suited for architectural designs. They are used in the ikebana style of floral design because they are rigid and help achieve the strong lines in ikebana. 
This is a close-up of the Dazey leaf-shaped flower frog. Made by Dazey Mfg. Co.
The round metal frogs look great stacked, and I usually sell them in sets. I prefer to display them stacked. I love how each one has its unique patina, and stacking that patina all together makes them even more irresistible look.
Because they provide a weighted bottom and do not damage the cards like tape, I often use them to display my holiday cards.
Glass Flower Frogs
Glass flower frogs are the frogs that I get the most question about. Made of glass, they have wider holes and are almost always round in shape. People often struggle to see how they are used for floral design because the holes are so big. 
They come in different sizes and colors but are generally round, some are flatter, some are more domed in shape.  Sometimes people use them as pen holders, scissor holders or brush holders (makeup or art). I get asked about them so often that I created a tutorial on how I use them in an arrangement, you can find it here. I love using glass flower frogs for bulkier stems; they create a great structure for heavy and or thicker stems, like sunflowers or tulips.
The thick glass makes them virtually bullet proof.  They can withstand a lot of wear and tear.  While I do find them with chips, most of the time they are in perfect condition.
Hairpin Flower Frogs
Hairpin flower frogs are made of bent metal. Bringing the best of both worlds, this style of flower frog provides rigidness of the pin frogs and allows spacing for thicker stems like the glass frog. Created by Ida Sinclair one afternoon after listening to the frustrations of designers at her garden club meeting. Her first prototype was made in her kitchen, consisting of a lead base and hairpins. She patented her Blue Ribbon Flower Holder in 1936.
This frog became very popular until the 50's when the floral foam was introduced. This frog allows you to achieve a fuller and more dynamic design. For some reason, these are not easy for me to come by. Only recently did I find a couple, and I have collected flower frogs for a while now.
Vintage Cage Flower Frogs  
Cage flower frogs are again made of metal with a wider, stiffer opening  compared to the Hairpin Flower Frog. The whole/spaces are not as wide as the glass but they are stiffer than the hairpin frogs. As a designer, I like to design with cages. Today they make reusable plastic ones, but I prefer metal. I think because of the weight. It does a better job of holding the overall arrangement in place and it's better for the environment.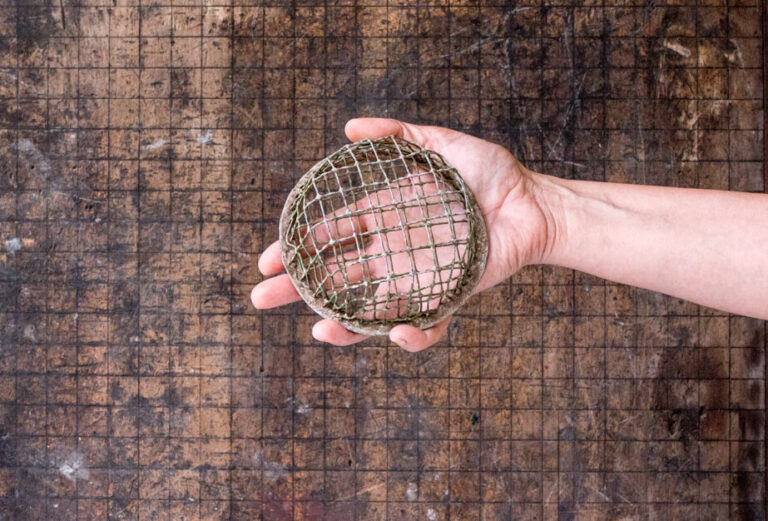 Decorative Ceramic Flower Frogs
Now come the decorative ceramic frogs.  They are typically more ornate and often whimsical. Modern-day ceramic frogs are more simple and utilitarian.  Of all the frog options, these are my least favorite. They are similar to glass frogs but lack the weight needed for arrangements.  For that reason, I find these to be the least useful.
My other issue with these frogs is although beautiful, they take attention from the flowers.  Vintage frogs of this type are most often used decoratively to highlight a few glorious stems rather than a beautiful arrangement.  Perfect for your prized picks from your garden.  
Ceramic frogs became popular during the early 20th century, becoming more and more elaborate. The book Flower Frogs For Collectors, by Bonnie Bull, is the most complete and comprehensive compilation of flower frogs. If you are collecting frogs I recommend this book. It is no longer in print, but you can still find copies on Amazon and eBay.
Decorative ceramic flower frogs are harder to find because of their fragility. Of the three in my collection, 2 have chips. I find them often, but very rarely do I find them in perfect condition.
This frog is just one sheet of lead rolled into itself, providing space for stems that can be manipulated as needed.
The most popular and most coveted for collections is the lead chrysanthemum shaped frog.  With the individual leaves easily manipulated, it is not only beautiful, but functional.
Metal Flower Frogs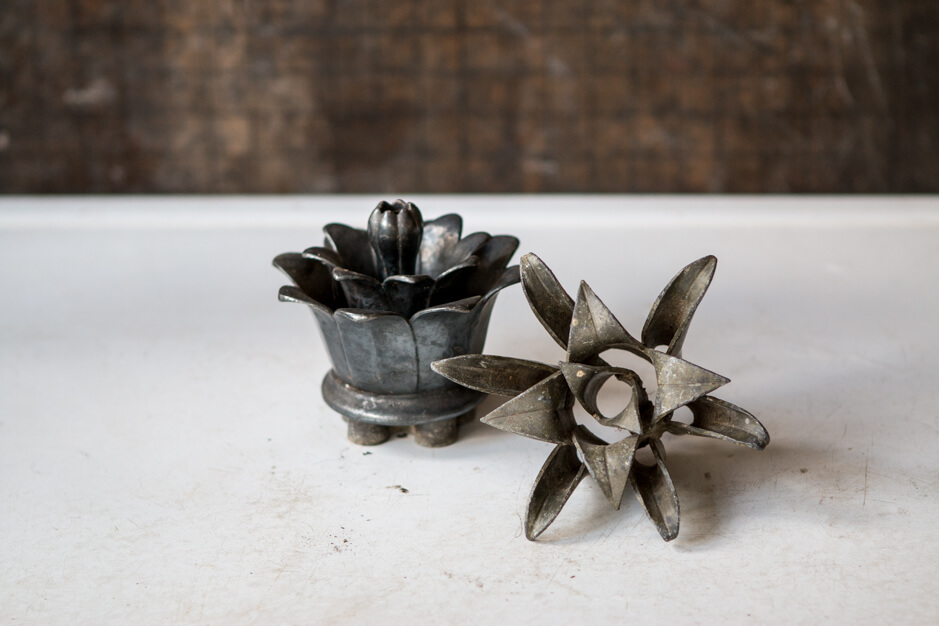 This is another frog that is a little harder to find.  Both of the frogs above would have been silver plated,  They have lost a bit of their luster, but they are still beautiful in design and weight.  These are not the easiest frogs to use because you are fighting with the constrains of the shape, but unlike the ceramic frogs.  These frog are heavy and will hold your flowers beautifully.  They also look beautiful on there own and that's why it's special day when you find one.
That sums up the different categories of flower frogs.  I am happy to have a least one from each category.  My flower frog collection has taken me years to compile.  I love to display and use these beauties, and urge folks to return back to frogs vs floral foam.  When using the right frog, you can have the same level of control as you do with foam.  There are also lots of new designs on the market today, which is exciting to see things changing in the floral design world. Happy hunting!