Vintage flower frogs are one of my favorite tools to use when creating floral arrangements. They became very popular in the early 1900's, but they have been used for hundreds of years in floral design. They are still being manufactured today, but nothing beats the patina of a vintage flower frog. I was once in line checking out at an estate sale and happened to find a couple of flower frogs, the woman behind me commented, "flower frogs are worth their weight in gold," and I couldn't agree with her more.
Why use a flower frog?
Mechanics are essential in any good floral design, and flower frogs provide a designer with the essential support that stems need in arrangements.  There are a few ways to do this, but flower frogs offer an eco-friendly way to floral design.  They are growing in popularity again as an alternative to the popular floral foam.  When floral foam first came out in the late fifties, it was the answer to every designer's dreams.  It holds a lot of water, provides stem support, made transporting a dream, and flowers can last in foam for over a week.  
The problem is that floral foam is essentially plastic that is treated with detergents. It is not biodegradable, and as it breaks down, it does so as tiny particles that contribute to the world's microplastic problem. You are here to learn about vintage flower frogs,  but I urge you to research the environmental impact that floral foam has on the environment and consider other alternatives.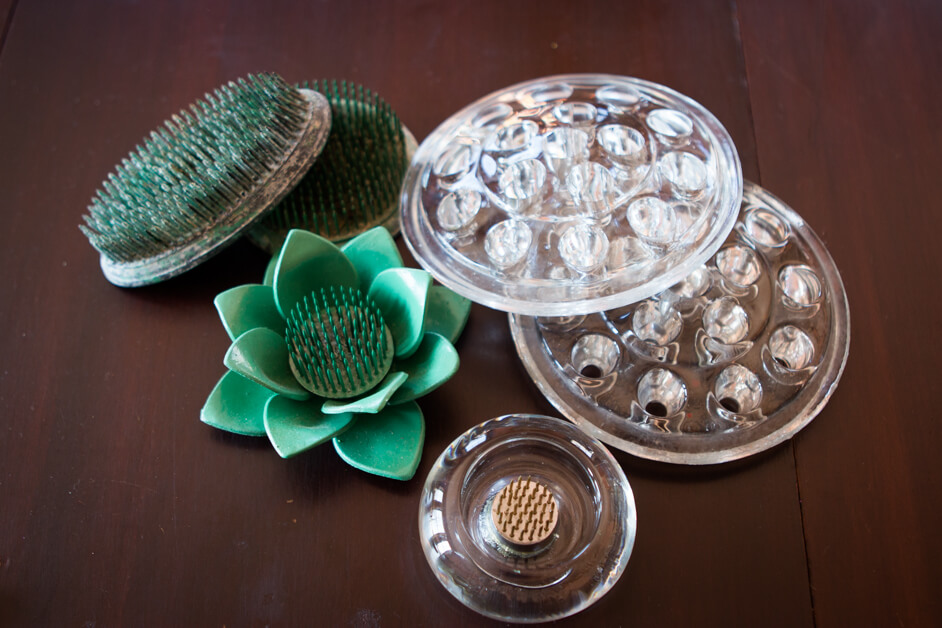 Finding the right fit and material
Flower frogs come in all shapes and sizes, from metal to glass and ceramic. They made elaborate flower frogs in beautiful shapes and designs during Victorian times, but I think those really are only good to showcase one flower or a few stems. Metal pin frogs and glass frogs are the easiest to find and can often be found at flea markets and antique markets.
Ceramic and glass frogs with large holes lend themselves to flowers with thicker and Or Sturdy stems, like tulips and stock or woody stems like lilacs. 
In comparison, metal pin frogs are great for thinner stems and a more structural design. Metal pin frog, called Kenzan frogs used in the Japanese floral design style, called Ikebana, provide the support needed for this very architectural style of floral design. Personally, I love the control that it gives me in my designs, especially in today's airy designs.  
For this arrangement, I am using a beautiful Grecian-style urn with a very wide mouth.  The vase requires some sort of support mechanism to hold the flowers in place. While it's technically possible to create the arrangement without any support, doing so would require a large quantity of flowers and result in a somewhat bulky appearance. To keep the focus on the flowers themselves, I've decided to use a glass flower frog as a support system.   It will support the this stems of the tulips perfectly and will blend in beautifully in the vase and will hardly be noticeable.
If you don't have a flower frog, you have other options. You can also use curly willow stems to form a base in your vase, chicken wire, or tape the top of your vase to support your stems.
This frog measures 5″ and has 16 holes, just enough for the perfect foundation. To begin the arrangement, I fill each of the holes with one tulip stem. Once I have filled all the holes with stems, I fill all the empty space in the arrangement with the remaining flowers. This arrangement has 60 stems of tulips (thank you, Trader Joe's), which is a lot but the arrangement is light and airy.
How To Design With A Glass Flower Frog
The visual learner that I am thought a video would be a good idea.  So I shot a quick YouTube video showing you how I created this tulip arrangement.  
The result is a beautiful clean, structured but airy, modern design. As you will see it's not as intimidating as you thought it might be.  The hardest part would finding the right size frog for the right size vase.
Collecting Vintage Floral Frogs
I hope that this inspires you to try an arrangement with a flower frog. And maybe it will also encourage you to start your own collection. They still have plenty of use in them and are inexpensive to collect. You can find vintage frogs anywhere from $5-20, depending on the size. I use them for flowers, but I also use them for photos and cards. It's a great way to display small signs or table numbers. Some people use glass frogs for pens, brushes, and even scissors.
My collection is growing and consists of various types of frogs.  I shared about my collection in a blog post, if you are interested you can check that out here.  Though I have quite a few frog it's still fun an exhilarating to find flower frogs especially the rare and unique ones.