I spend countless hours on google researching items I find on my picking adventures.  Most of the time, there is very little information available.  I can usually find eBay listings with a little blurb, but not much else.  So I have decided to document those finds that I think are interesting, under Found Items.  I will add to the posts as I discover more about the item. If all I have to offer is images, which will often be the case, then at least there will be something, and maybe we can learn together.
So this is my first post on Found Items. This found item is an antique Schalk's beer bottle. This is a hand-blown bottle made of beautiful green glass with a gorgeous antique orange label.  The glass is so thick and heavy I could drop this bottle on cement and it would be fine.  This is a cork top bottle, and the cork is still in the bottle dancing around with every handle. The label is not in perfect condition, but it's in pretty good condition considering this bottle is from the late 1800s, being well over 100 years old it's a true antique.
This Lager beer was bottled for the S. S. Pierce Company a Boston-based luxury grocer / importer that spanned 4 generations (1831-1972).    A very progressive company delivering quality and luxury items like wine, cigars, chocolates, teas, coffee, as well as general groceries as far as the north shore of Massachusetts. The label on this bottle reads corner of Tremont and Court (its first downtown location) and corner of Huntington Ave and Dartmouth Street (Copley Square) funny no street numbers.  Because of the two locations, I would date this bottle to the late 1800s. At one point they had a total of 4 locations. A great piece of Boston memorabilia.
If you are interested in learning more about the Pierce family, I highly suggest this lecture by Anthony Sammarco, "S. S. Pierce: A Boston Tradition"  I love history and Anthony delivers a wonderful lecture about this interesting family.
This lager was brewed and bottled for S.S. Pierce in NJ, by Schalk brewing owned by German immigrants Johann Nepomuk Schalk and his three sons Herman, Adolph, and Oscar. Schalk's was founded in 1879, the Ballantine family bought the Schalk brewery for $110,000, which then was sold to Pabst, which was then sold….you get the picture. Schalk's was one of America's original beer companies.  It's a great piece of history.
Wish I had a romantic story to tell you about how I found the beer bottle, but I don't.  I was at a cleanout company's sale and I found it in a box of random things up in the attic.  No other bottles with it, just random stuff probably from a garage.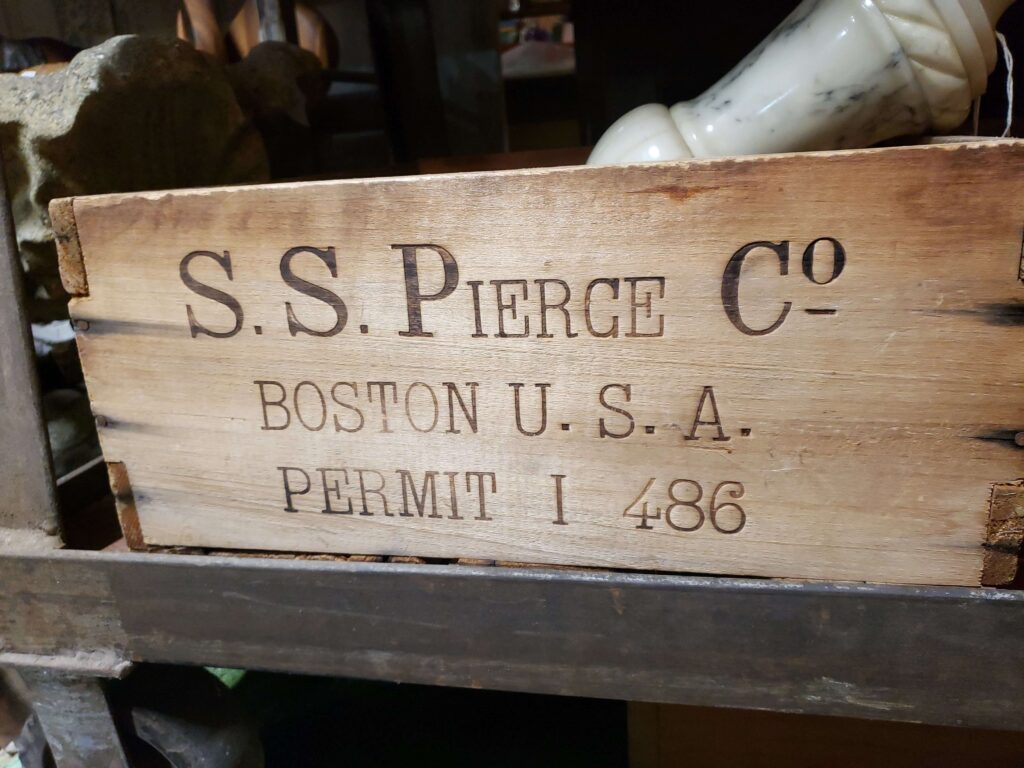 My mind was on S S Pierce after all my research. One day, while tidying up my booth, I discovered I had a wood box/crate from SS Pierce. Originally, this box held imported wine.  I am always drawn to anything Boston, but now it holds a whole new meaning for me.
Thank you for looking and if you have any more information about Schalk's brewing co or S.S. Pierce please share in the comments.  On to finding more treasures.