Having worked as a florist for over 10 years, I can honestly say that red roses are my least favorite flower. Talk about predictable. There are just too many beautiful flowers in this world, why say I love you with red roses? Why not give a jewel-tone arrangement of orchids and lilacs or a pastel arrangement of tulips and peonies?
I created two valentine arrangements for myself, and both are supermarket flowers, but more importantly, not a red rose in sight.
Romantic Pinks and Purples
On a recent trip to WholeFoods, I stopped dead in my tracks when I saw these fantastic carnations. They had a bad wrap for a long time. They were considered cheap and common. But boy, have carnations come a long way. This carnation was a hybrid creation, two-tone fuchsia pink and dusty mauve. It is just so beautiful, and one of the best things about carnations is that they last a long time. Between the color and longevity, this was a no-brainer.
This grocery store flower combination was a bunch of carnations, some beautiful purple hydrangea, and a silver lambs ear. A simple and easy combination.
I also picked up some pink heart meringues. Why? Not sure, but I felt like they would bring another texture and fun element to the arrangement. And it's a fun way to celebrate love in a non-plastic, eco-friendly way. I am not perfect, but I try my best to celebrate without plastic.
I love how the cool tones all worked together.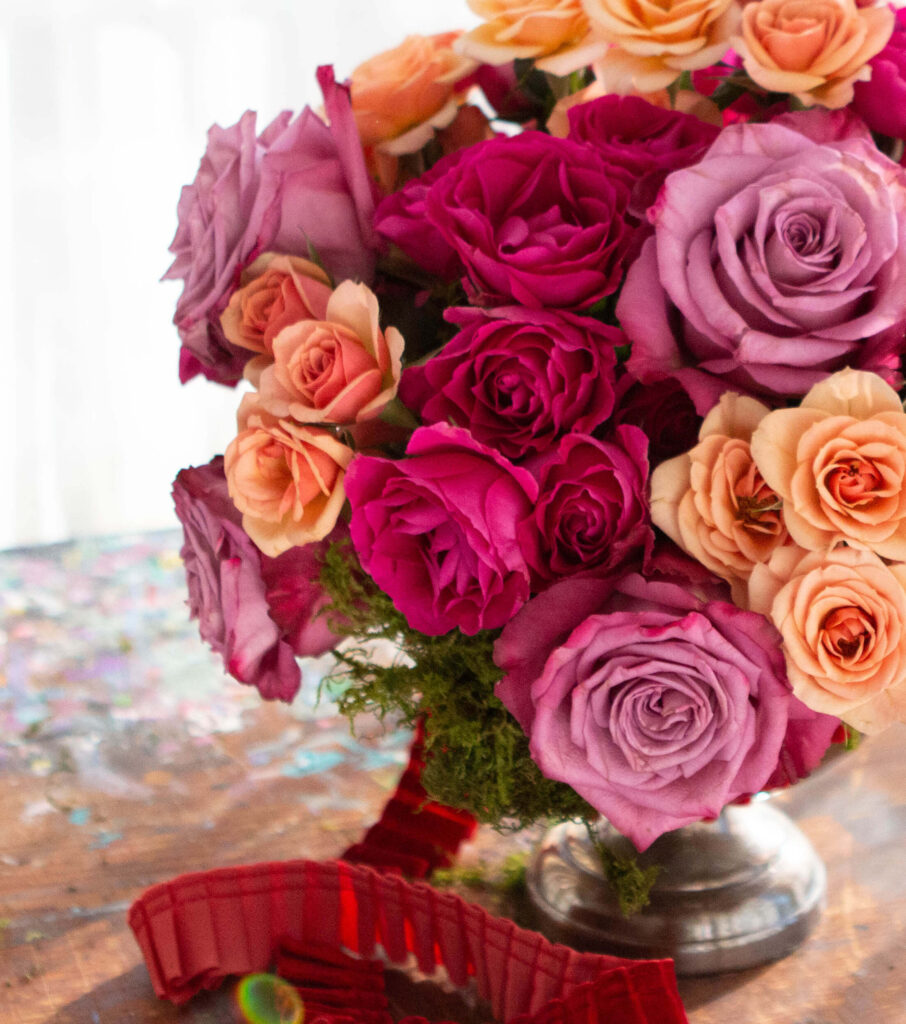 This second arrangement comes from the flower selection at Trader Joe's. They really do have a fantastic flower selection, with excellent prices. There is no reason not to go home with some beautiful blooms for your home.
Again I went with a silver-plated trophy vase, but this one is special.  This trophy vase has a cage flower frog top.  It's comes with its own mechanics for your floral creations!  I went a vibrant selection of roses.  
I used gorgeous purple garden roses and peach and hot pink spray roses, all from my favorite TJ's. I bought these 3 days before Valentine's Day, and I was so impressed with the quality of the flowers.  Unfortunately, I underestimated the size of the vase. SOME MECHANICS WERE SHOWING when I was done because I needed more roses to fill this container, but I covered whatever mechanics showed with moss. And at the last minute, I added a little red velvet box pleated ribbon and let it trail off the edge. I loved how it came out.
So here are a couple of ideas for Valentine's Day flowers. I hope you enjoyed and more importantly, I hope you are inspired to celebrate love with a different palette. Happy Valentine's Day, no red roses here.