I love any reason to celebrate, but I especially love celebrating this great country on Independence Day. From bunting to tablescapes, I love to dress my house up inside and out with lots of red, white, and blue.
How Do I Incorporate Vintage Items Into My Patriotic Décor?
I do make a conscious effort to stay away from anything disposable and if I buy something new I want it to be a quality piece that will last for years.  I like my décor to have soul and whimsy. It's not just about putting flags everywhere, but when I do you can bet that they are vintage.  It's about finding unique accents pieces that celebrate our pride and joy.  Really highlighting the red white and blue in both conventional and unconventional ways.
Here are some decorating ideas to celebrate America's birthday in vintage style.
Americans have been decorating their homes for the 4th with flags and bunting for a long time. It's classic and timeless and it's where my patriotic décor begins.  When in doubt, adding some bunting to your windows and doors or hanging a gorgeous vintage flag will transform your home.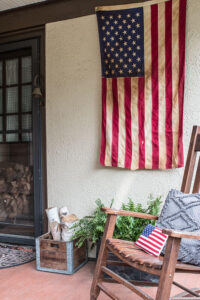 Do you know what direction to display the american flag?
When displaying the flag either horizontally or vertically against a wall, from a portico or in a window, the stars should be uppermost left hand corner.
A large American flag draped in the portico, bunting hanging from windows, always satisfies my soul. I am partial to using red, white, and blue scarfing fabric. Not bunting, but the long fabric.  It's my favorite way to decorate doors and porches. It's a classic way to dress up the outside of your home.   I recently found some vintage scarfing fabric with the most amazing patina.  I love when the white has lost some of its crispness, it gains a certain significance and presence. I realize that this is not an easy find, but you could recreate it with new patriotic scarfing and then tea stain it.  Or add to your wish list.  Do you have a vintage wish list?
I am always looking for beautiful old flags when I am out-picking.  I found a huge one this summer, and I love it.  It's well-loved but not ragged or worn.  For me, a good flag is made of cotton, has some weight to it, but is still vibrant.   Although I can appreciate a faded flag, I like prefer strong colors in my flags.
I think we traditionally think of patriotic décor to be an "outside" thing. However, don't neglect the inside of your home. 
Vintage Patriotic Indoor Décor Ideas
I can not pass up vintage flags, and I have been picking for a long time. As you can imagine, I have amassed quite a collection. I like to display them collectively in old cider bottles or vintage metal cans.
I collect flags on sticks, but I also collect sad flags that have lost their stake. So often found in the garage or basement of homes in forgotten boxes or drawers. I love them. They have a great patina.
I recently found an old, weathered sailboat mast. I clipped on all the loose flags with tiny red clothespins, and I think it looks fabulous! You could also clip the flags on some string and make a banner for your mantle or wall.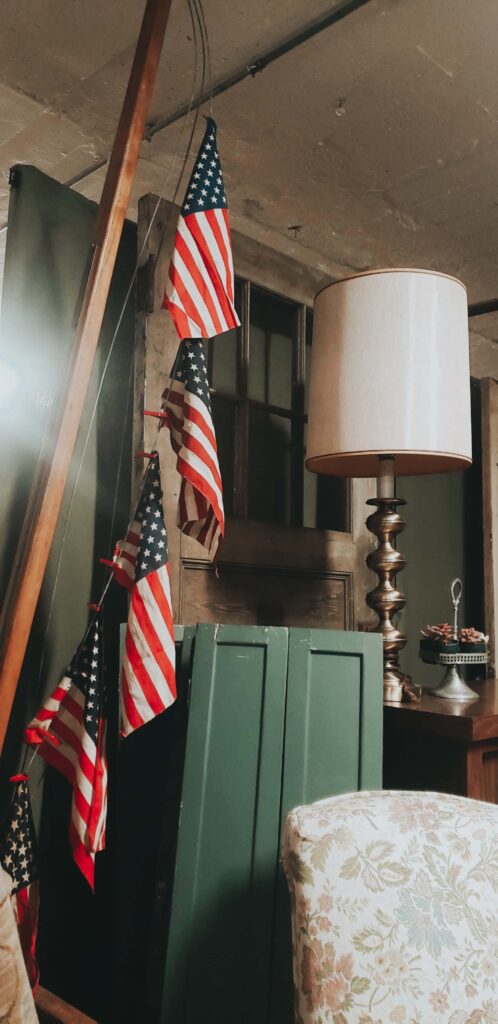 Vintage Patriotic Vignettes
Find spaces in your home where you can celebrate the season, whether it's Easter or, in this case, 4th of July. Having an area to switch out with themed décor is a great way to decorate without overwhelming you or your space. My hall table always has a stack of vintage red books. For the 4th, I add some blue vintage books and vintage trophies and filled  them with white hydrangea. It doesn't take a lot to change the space. You could add a picture frame with a vintage patriotic print.  I recently found this beautiful patriotic cross stitch that look great in this vignette.
Patriotic pottery vignette
Chinasoire pottery lends itself beautifully to patriotic décor. If you collect flow blue or blue and white pottery, adding some red flowers to your display will make for a beautiful vignette. The best part of this look is that you just embellishing décor that you already have.
Utilizing color in you patriotic décor
I like to  make use of things for their color and often ignore what they are. For example, I use vintage books as décor. Stacking vintage red and blue books with a small vase of white hydrangea is a classic look, with patriotic flair.  It doesn't always have to be about flags and bunting.  
Red, white and blue can be achieved with fruit, flowers, books, paper, fabric, and baked goods. You can add faux fruit to a blue and white ironware bowl for a stunning look on your kitchen counter.  Red gingham napkins on a blue plate can elevate your tablescape.  
Another thing that I collect are vintage glass Christmas ornaments.  I collect all sizes and I use the small ones in bowl for different holidays.  Above is a grouping of red, silver and blue mini glass ball ornaments in a cut crystal pedestal bowl.  I love how they are sparkly and pretty.   It's vintage, it's patriotic and it's a different take on glass ornaments.
I hope you found some inspiring ways to celebrate America with vintage flair and style.